ALEXANDER RUTHERFORD SCHOLARSHIP
Applications open in June.
Students may earn a maximum of $2500 toward their post-secondary education if the eligibility criteria are met. Awards are as follows:
| | | |
| --- | --- | --- |
| | 75%-79% | 80% |
| Grade 10 | $300 | $400 |
| Grade 11 | $500 | $800 |
| Grade 12 | $700 | $1300 |
Apply for the Alexander Rutherford Scholarship Here
ADDITIONAL SCHOLARSHIPS AND BURSARIES:
STORWELL FOSTER CHILDREN BURSARY PROGRAM
Storwell offers an annual bursary of $2,000 in support of foster children to help them attend post-secondary schools and to offer a hand up as they make their way forward in life. Visit their website below for more information.
Storwell Foster Children Bursary Program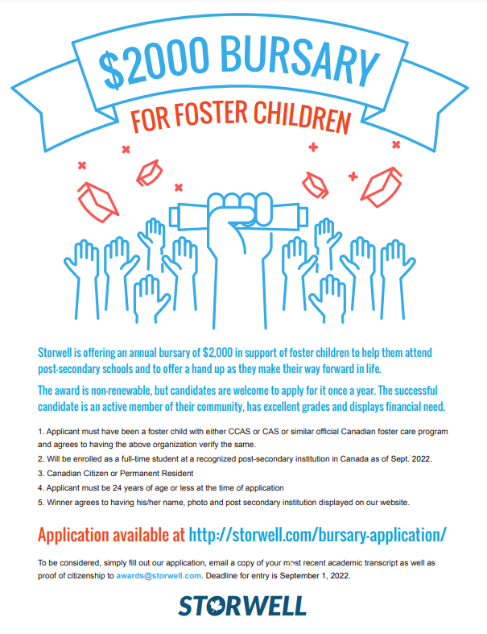 OUTREACH PROGRAMS SCHOLARSHIP CHART
Please review this document for detailed information on various scholarship and boursary opportunities.
Outreach Programs Scholarship Chart
RBC FUTURE LAUNCH SCHOLARSHIP
About The Scholarship:
The RBC Future Launch Scholarship will be awarded to those who show a clear vision for their future.
For Canadian youth between 15-29 years old
Enrolled part time in school or not in school at all
A Canadian Citizen or Permanent resident
Grades and transcripts are not required
450 scholarships available throughout 2020
Not working at RBC or a dependent of someone working at RBC
The $1,500 scholarship can be used for many different things, including:
Short-term courses
Workshops
Certificates
Necessary equipment or books
And much more!
Visit the website below for more information.
The RBC Future Launch Scholarship
EDMONTON KINSMEN CLUB SALUTE TO YOUTH
Each year, the Kinsmen Club of Edmonton is pleased to provide scholarships to a Grade 12 student in every Edmonton Public and Edmonton Catholic High School in the City of Edmonton to recognize the students' contributions to community service.
Learn More about the Salute to Youth here